---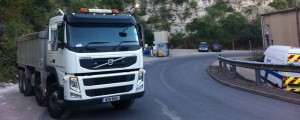 Glengall Limited is an independent haulage company specialised in transporting aggregates and asphalt materials for construction companies, mainly for road works. We also transport waste materials from the construction sites as well as raw materials to our client's depots.
We supply 8-wheeler tippers both insulated and steel bodies trucks with up to 20 tonnes load capacity. We currently run a fleet of 30 Tipper Lorries and our fleet size is ever increasing in line with demand from our clients. We also undertake the following as required by our clients whilst on site:
Chute work
Daywork or Handlay
Asphalt Machine Lay
Plaining
Muck away
Multi-trips or Redirection
Other adhoc tasks (subject to agreements)
We currently operate in the South, the East, the West and the Midlands as well as London and the South East areas.
The Company is registered at Company House as Glengall Limited t/a P&S Transport.